Oru Paanai - Education
Education has always been highly valued in our culture and in our opinion, it will always provide the path to rebuilding the war torn regions. Recognising the importance of education, Oru Paanai has undertaken projects to help with remedial classes for those affected by the war, which was the brainchild of Prof.Swaminathan's late brother, Ram Subramaniam. The initiatives we supported were aimed at remediation - additional tuition classes in the more important subjects, mostly undertaken by volunteers.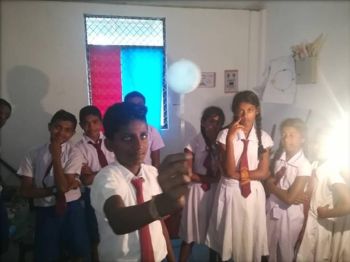 Science Exhibition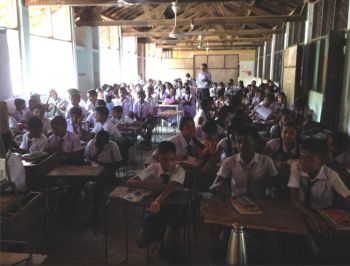 Remedial Class in Progress
The initiatives OP had supported are as follows :
1. RHYTHM – Batticaloa: extra English classes in Kannagkudah Maha Vidyalyam for 84 students; classes in English, maths and science for 75 students in Karadiyanaru Maha Vidyalayam; and classes in English, maths and science for 25 students in Illupadichenai Ambla Vidyalayam.
2. Siva Thamil Manida Vidiya Kalaham STMVK (Dawn of Humanity of Siva Thamils) was started in 2003 by Jaffna University medical students. It is popularly known as Mahadeva Padippaham, named after an inspirational chemistry teacher. Their aim was to provide not only educational evening classes in maths, English and science, but also focus on cultural and spiritual welfare. Initially their activities were focussed on displaced children in Chunnakam, but now they work mainly in Mullaithivu and Killinochchi.
3. AUSDA (All University Students Development Association) - Vavuniya District – which provides financial support to impoverished students from Vavuniya who need assistance to continue their university studies and also provides remedial tuition classes for 'O' Level students in remote areas in the district.
All three projects were closely monitored by OP Education and the organisers provided quarterly progress reports as well as financial reports on how the money was spent. These projects were successfully completed.
In 2015 we had a request for help for a science exhibition in Batticoloa. This was organised by the Science Navigators, an organisation to encourage and promote science learning in Batticoloa. With OP's help, this exhibition had been a success according to the organisers.
In 2016 OP helped to support workshops for years 5 to 9 in mathematics, English and science. These were organised by Dr. K. Arulnithy and Soundararajah Kokularajah and run by Mrs.Ahila Canagasooriyam. This was completed in 2018. During the first term 40 workshops were run for years 5 to 9 in all three subjects. In the second term they did 20 workshops and, in addition, weekend workshops were also done. OP helped to provide milk and biscuits during the workshop, as well as paying for 5 teachers to conduct these workshops.
In October 2016 OP supported additional classes for 10 year old students sitting the year 5 scholarship examination in Batticoloa.